I love doing Christmas crafts, and so do the kids! Christmas is a time to get together with friends and family and enjoy doing something together. As Christmas gets closer, I always try to find a simple craft that I can do with my family. Whether it is with just my immediate family or a fun craft I can do when we all get together for the holidays.
You Might Also Like —> DIY: EASY REINDEER DIXIE CUP CRAFT
This simple Gingerbread man craft is great for all ages. It is simple enough to make with the littlest of crafters, yet cute enough for even the older ones to enjoy. Some of the younger ones won't be able to cut out the shapes, but they can certainly clue on the pieces that make this Gingerbread man a man. With a jolly smile, two buttons, some googly eyes, and a little "frosting," the Gingerbread man is a perfect addition to your holiday cheer.
Supplies
Scissors
School Glue (or hot glue if adult will be helping)
Marker
Directions
First thing you want to do is trace the outline of your gingerbread man with your marker. You can do this by using a cookie cutter and trace around it or use the cutout. You will need to trace two of them.
Next, cut out each of those pieces you traced. Then in one of the pieces, cut a slit around the middle. Be sure to not cut all the way to the edge. This will be for putting fingers in.
Now, use the glue and trace around the inner edge of the other piece you did not cut in the middle. Also add glue to the head area and upper arms. Have it where any marker that is showing is on the side you are putting glue.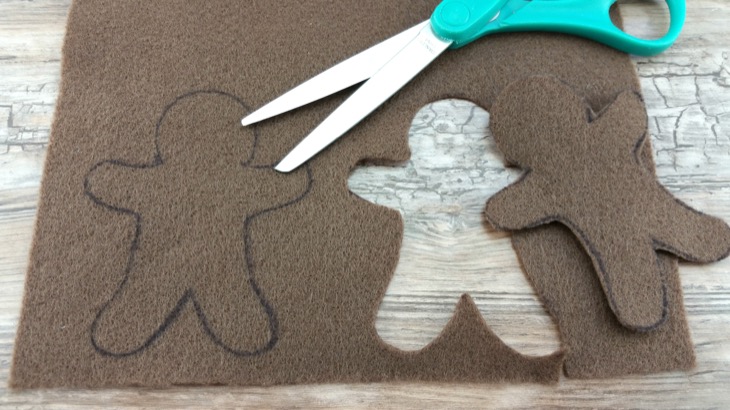 Note: While school glue does work for this, it does not hold up as long as hot glue. Hot gluing it will hold up longer to the wear and tear of little ones. So if there is an adult helping out, you may want to use hot glue.
Next, you will lay the piece you cut in the middle on top of the one you just put glue on. Be sure that the marker side is facing the glue. Set aside and allow to fully dry. If using hot glue, it will be dry in about five minutes. If using school glue, will take about 6 hours.
After your gingerbread man is totally dry, it is time to add the finishing touches. On the side that has no cut, glue the eyes on the head. Then using the white puffy paint, give him a smile. Also use the white paint to make the zigzag marks on his legs.
Now just give him a few green buttons and he is done! Allow a few hours for the paint to dry before playing with your new gingerbread man finger puppet.
Have Fun!
Share your thoughts in the Comments section below, on our Facebook Page,  Follow Our Twitter Account or Head Over To Our Pinterest Page!